The Library Staff Awards are held annually to highlight the depth of achievement among the Dartmouth Library staff. These awards include but are not limited to Values in Action Awards, the Dartmouth College Staff Association Awards and Years of Service Awards. The awards are peer nominated apart from the Years of Service awards.
Values in Action
The Pathways Awards and Recognition Action Group created two types of awards centered around our Dartmouth Library Values. Our values represent the guiding principles to which we, the staff of the Dartmouth Library, aspire. They inform what we prioritize, how we make decisions, and how we treat one another. The Individual Awards are given to a staff member exemplifying each of the Library Values, and the Group Awards are given to groups that exemplify one or more of the Library Values.
Individual Awards, 2022
Community: 
We strengthen our vibrant community by contributing our expertise to research, learning, and scholarship, and through a commitment to being welcoming and inclusive to individuals, identities, backgrounds, and groups that have been historically marginalized.
Ilana Grallert
Processing Specialist II, Rauner Special Collections Library
"Nearly 10 years ago, Ilana became interested in the history of the Dartmouth Cemetery. Over the years she has mined the archival collections to develop: popular tours of the cemetery; a podcast series; a digital project devoted to the cemetery record; and a cooperative venture with the Center for Social Impact related to the research around the cemetery and Dartmouth's past. Additionally, she works with the town of Hanover to maintain the cemetery. This work has integrated library resources with the community, but strengthened the positive bonds linking Dartmouth with Hanover. Her research is also exposing the diversity of Hanover's past by mapping gravesites of people from marginalized communities."
Curiosity: 
We foster an environment of continuous learning, creativity, innovation, and support for the creation of knowledge and scholarship. We welcome, encourage, and honor differing perspectives.
Dennis Grady
Exhibits and Graphic Arts Designer, Teaching and Learning
"Dennis brings a spirit of curiosity and creativity to his work as the Library exhibits designer. When he's guiding curators on how to communicate their ideas, his genuine curiosity about their work fuels a collaborative relationship and results in intellectually and visually engaging exhibits. Dennis also curates exhibits himself, and his curiosity leads him to a wide range of exhibit topics: he's asked his colleagues to share their musical influences ("file under easy listening" 2022), he's explored the international political turmoil of 1968, 50 years later ("The World Turned Upside Down" 2019), and he's engaged with dozens of students, learning about their personal and intellectual interests for the annual "Student Library Service Bookplate Program" exhibit. Currently, Dennis's curiosity is guiding his work on an exhibit featuring the artistry of Ernst Haeckel. Dennis's curiosity was sparked when he came across a visually engaging book in the Library's collection featuring Haeckel's illustrations. His curiosity again led him to learn more about Haeckel and some controversies surrounding his ideas. When Lilly Linden joined the Library and shared that she knew a bit about Haeckel, Dennis followed his curiosity into conversations with Lilly and with the faculty in her disciplinary areas. The exhibit that will be on display this coming winter looks quite different than the original plan Dennis created. His curiosity and openness to continually learning guided him throughout this process."
Respect: 
We act with respect, appreciation, and support for the professionalism and expertise of our colleagues. We work to develop Library collections, programs, and teams that are ever more inclusive and just for our community.
Joe Montibello
Manager of Library Information Technology Systems, Digital Library Technology Group
"When I read through the values and thought of who came to mind, Joe immediately jumped right to the forefront with regards to Respect. Joe's work running the DCEI, involvement in EDI, and interactions with colleagues has always been centered on respect. He acts with clear intention on supporting his coworkers and holding them and the institution to a high standard. He often takes the reins when no one else is able to, and I think we need to acknowledge and reward his service."
"I really appreciate the leadership role that Joe has taken in the Dean's Council for Equity and Inclusion. He has been a voice for library staff who want change that will create a more inclusive environment at Dartmouth."
Service: 
We are dedicated to service through our partnerships and our commitments to excellence, access, and expertise. We remain adaptable and focused on long-term sustainability of our work.
Eileen Potts
Information Access Assistant, Access & Delivery Services
"I'd like to recognize Eileen for her dedication and commitment to excellent service. Eileen was the driving force behind the Leganto implementation. She handles so much "behind-the-scenes" in order to accommodate faculty requests, all for the benefit of the students taking those courses."
"Eileen will correct me when I make a mistake, however she will do it in a gracious way, with a smile attached. Thanks. One example that comes to mind is there was an item in the Lost and Found, and it was placed in the safe. Eileen said that she found it, however in the future I would put a note on it so everyone knows the date, time and place it was found."
"Eileen's expertise and leadership in the implementation and rollout of Leganto has been absolutely essential to the success of that process. She is always looking for ways to improve the patron experience, often catching things that have gone overlooked. A great person to work with!"
Trust: 
We choose to start from a place of trust, and to build and maintain trust by acting with integrity, transparency, and authenticity in our collaborations, communications, and partnerships.
Peter Carini
College Archivist and Records Manager, Rauner Special Collections Library
"Over the past year Peter has done amazing work to build trust in the library (and in the broader institution) through two major projects. First he helped to orchestrate the repatriation of materials by and associated with Samson Occom to the Mohegan tribe. This monumental achievement was a crucial step in healing a centuries-old wound perpetrated by Dartmouth's founder Eleazer Wheelock. It was a key step in building the trust necessary for future collaborations with the Mohegan that will benefit both communities. Secondly, Peter has been a tireless partner with Deborah King in bringing to light Dartmouth's past associations with slavery. This project, now funded by the Vice President for Institutional Diversity and Equity. Exposing this history creates trust with marginalized members of the Dartmouth community and positions the Library as their partner."
Group Awards, 2022
ACS Access & Collections Strategies Group: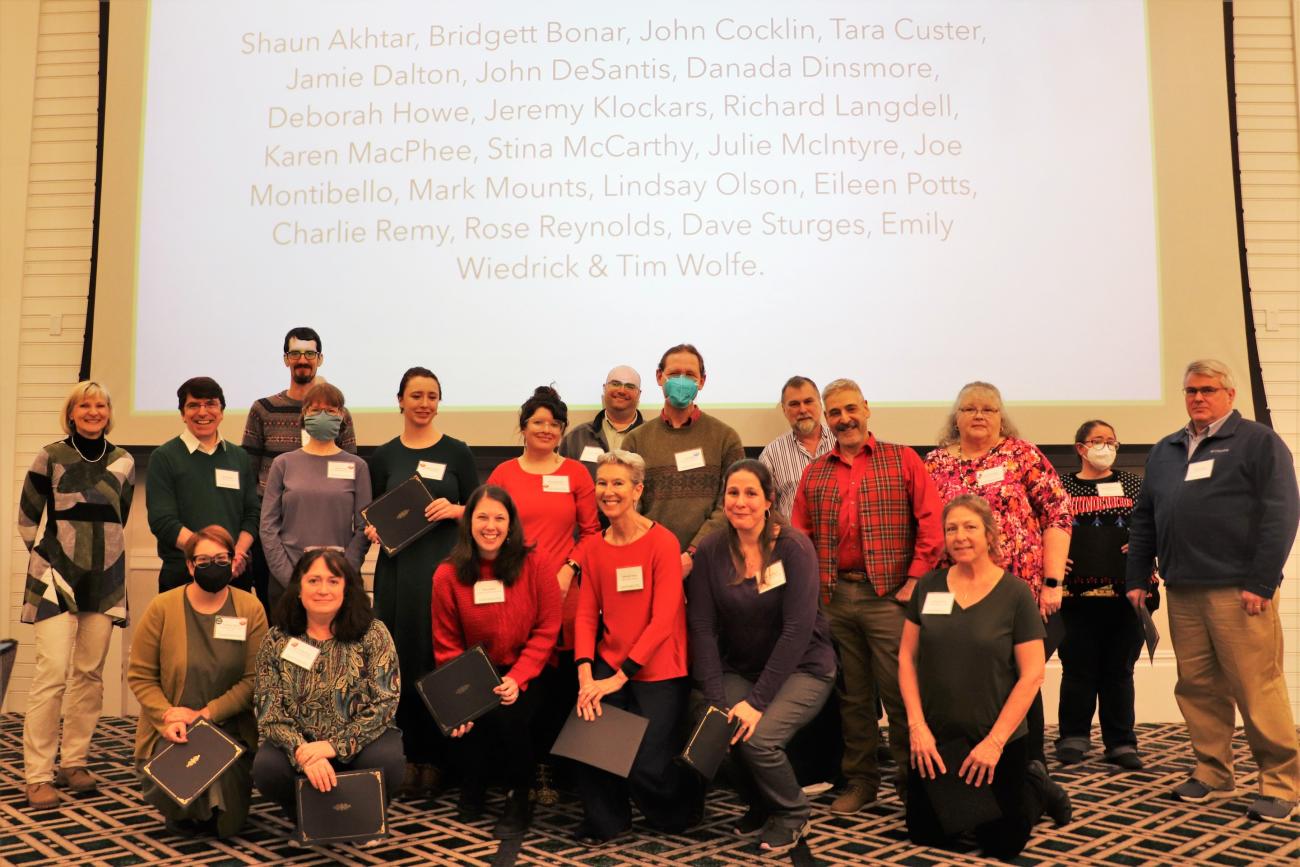 Top left: Sue Mehrer, John Cocklin, Jeremy Klockars, Eileen Potts, Bridgett Bonar, Rose Reynolds, Charlie Remy, Tim Wolfe, Richard Langdell, John DeSantis, Julie McIntyre, Danada Dinsmore, Dave Sturges.
Bottom left: Lindsay Olson, Karen MacPhee, Tara Custer, Deborah Howe, Emily Wiedrick, Jamie Dalton.
Not pictured: Shaun Akhtar, Stina McCarthy, Joe Montibello, Mark Mounts.
"This group has representatives from many departments within the library and is dedicated to solving problems, helping each other establish and refine workflows, and always is keeping the end user in mind. We are a truly democratic group with a rotating group to set agendas, run meetings and take minutes. All voices are heard equally within the group and we support each other and respect each other's expertise and experience."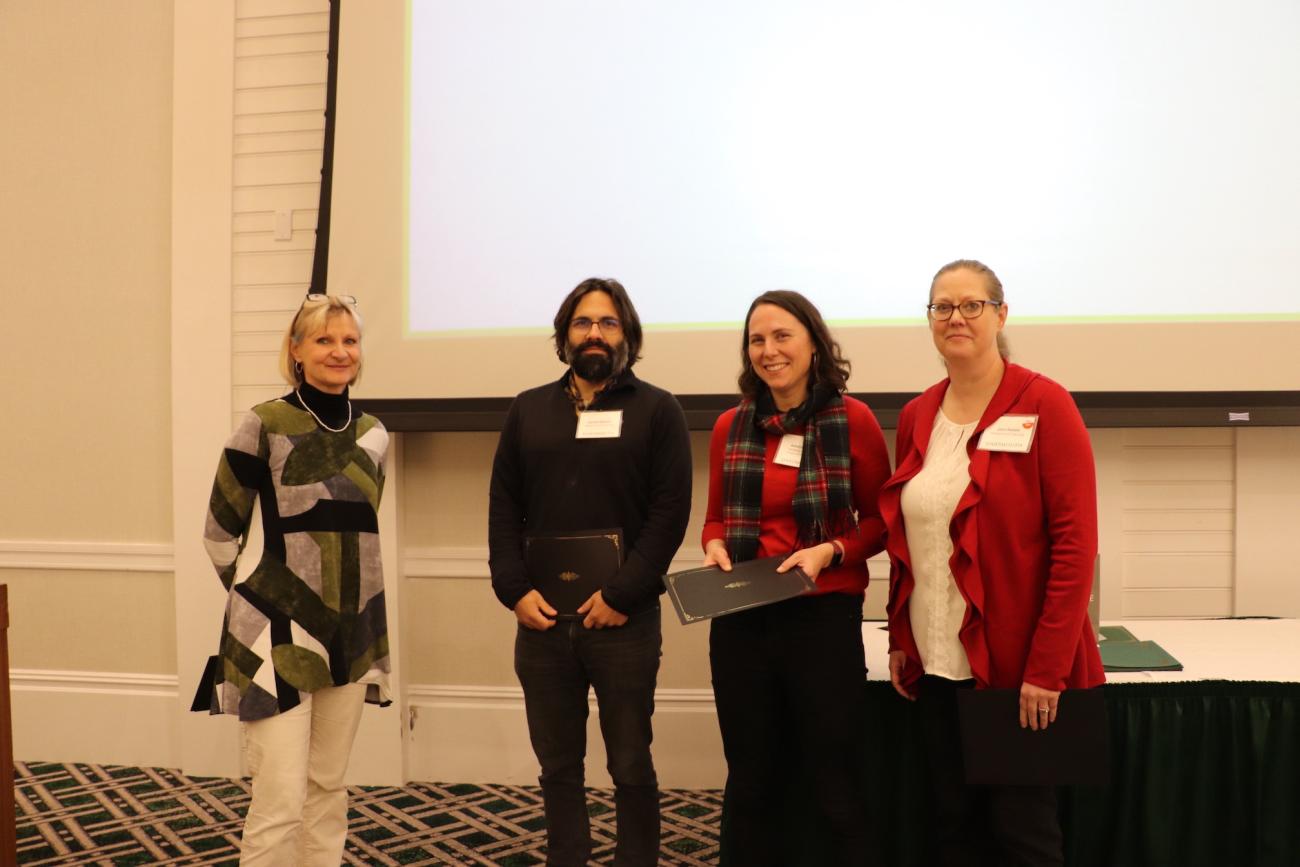 Left to right: Sue Mehrer, Daniel Abosso, Amelia Looby, Jenn Natale (lead)
Not pictured: Mark Mounts
"I'm nominating the Springshare team because I am very grateful for the collaborative work of this group in supporting the library's use of Springshare applications. It is so helpful to have people spending time to ensure people know how to use the Springshare suite of tools, and that the tools are set up for library staff and patron success. I especially appreciate the recommendations and insights about improving user experience in Libguides that this team has shared with us in DLTG. I also have been grateful to be able to share questions and get input on web-related projects, and to be able to take advantage of the internal staff Libguides. It is nice to see a group in the library come together from different areas and help ensure this important tool is working well."
Jeffery L. Horrell Award, 2022
Awarded to an outstanding member of the Dartmouth Library Staff Association who most exemplifies Dean Horrell's contributions to the quality of life in the library, sense of inclusion, enthusiasm for our organization, geniune concern for fellow colleagues, and high standards for campus and community conduct.
The Dean Jeffrey L. Horrel Award was established by colleagues on the Dartmouth College Library Staff Association Board in 2016. Jeff served as the Librarian of the Sherman Art Library (1981-1986), and later as the 18th Librarian of the College (2005-2016). His daily kindness and his friendship will be missed. This award was established in honor of Jeff and the great support he offered our association.
Karen MacPhee
Baker Berry Library Public Services Manager
"She acts with extreme kindness to library staff, including student employees, for the past several years. It seems that she makes an effort to be present for any meeting about improving the work environment. There, she contributes a positive perspective to conversations about diversity and inclusion. Her empathy has meant a lot to me personally, and I know that she genuinely cares about her coworkers."
Library Service Year Awards, 2022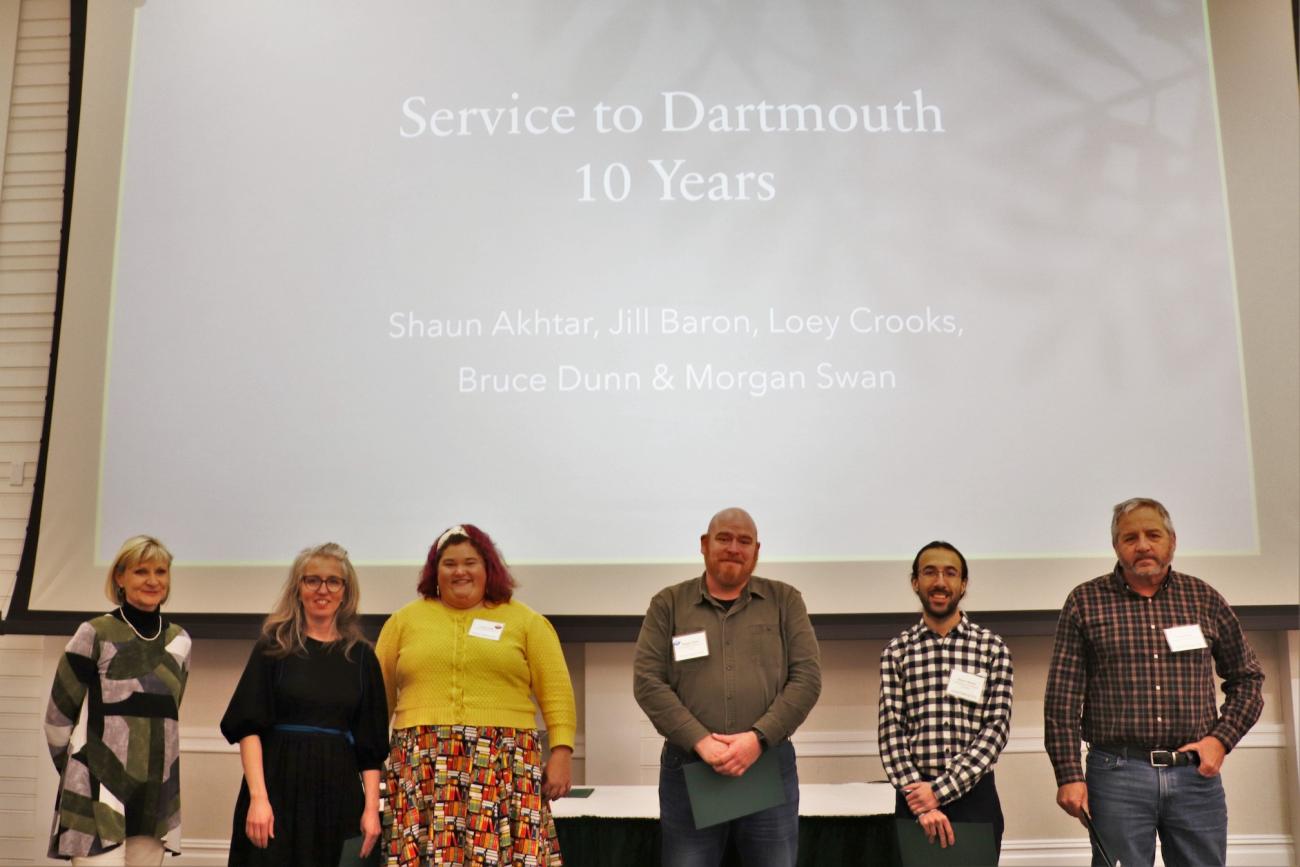 Left to right: Sue Mehrer, Jill Baron, Loey Crooks, Morgan Swan, Shaun Ahktar, Bruce Dunn
15 Years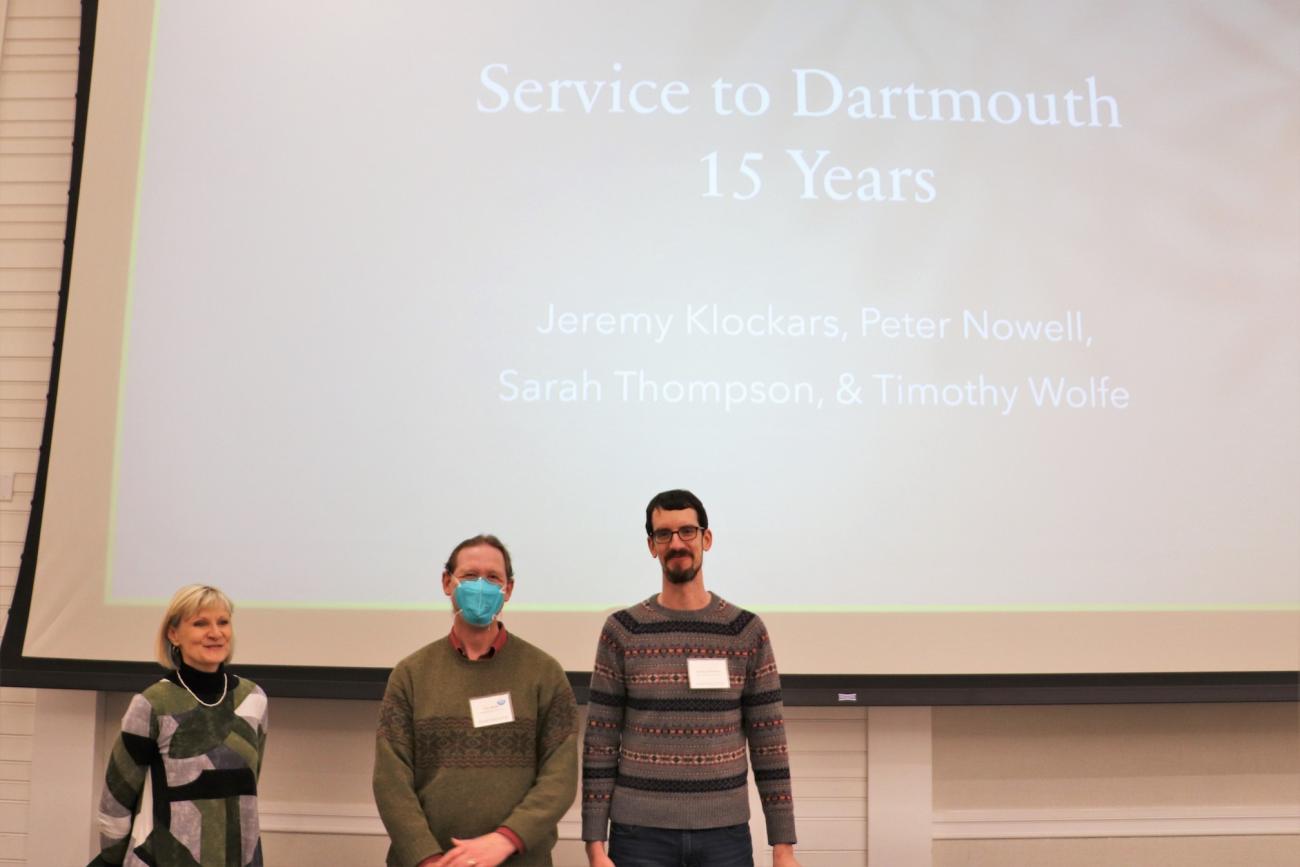 Left to right: Sue Mehrer, Timothy Wolfe, Jeremy Klockars
Not pictured: Peter Nowell, Sarah Thompson
20 Years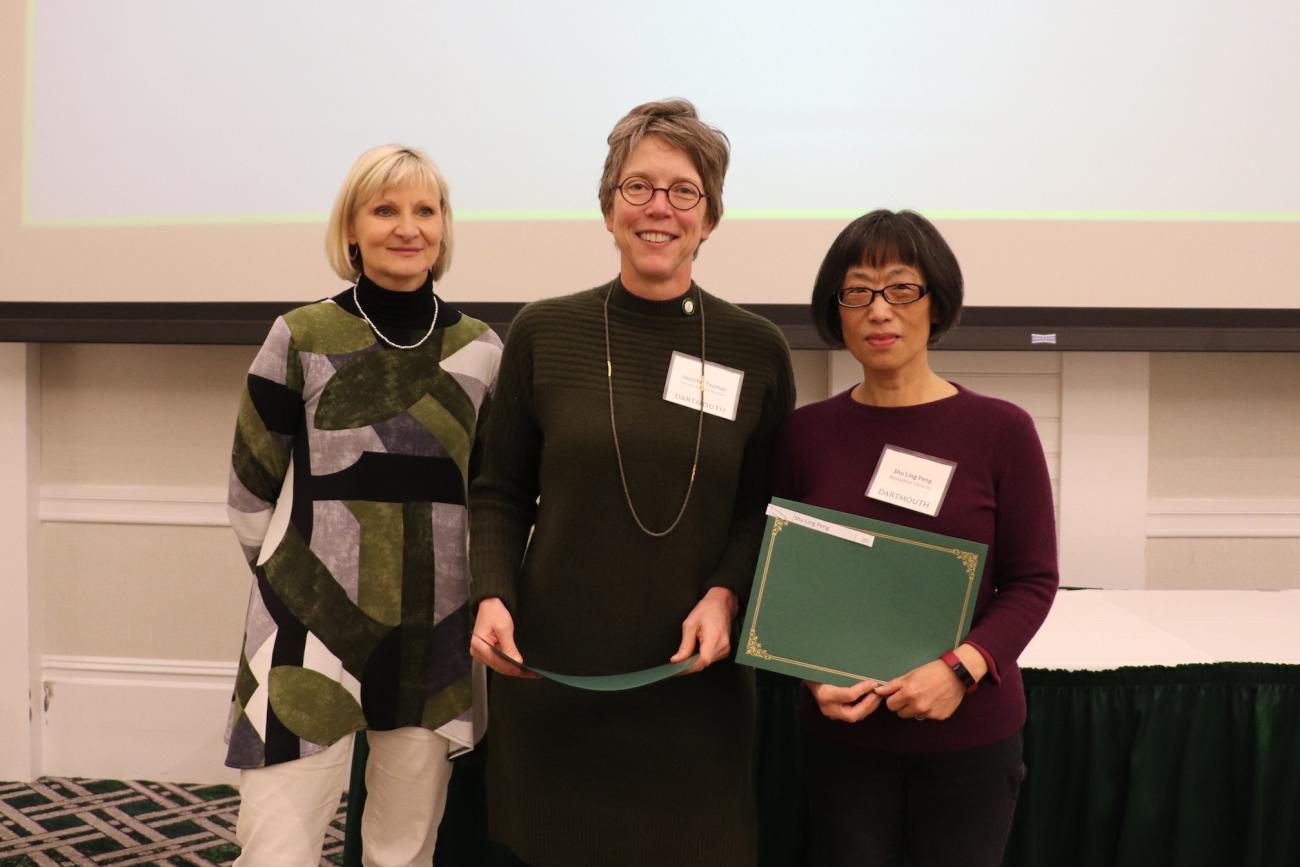 Left to right: Jennifer Taxman, Shuling Peng
Not pictured: Dennis Grady
 
25 Years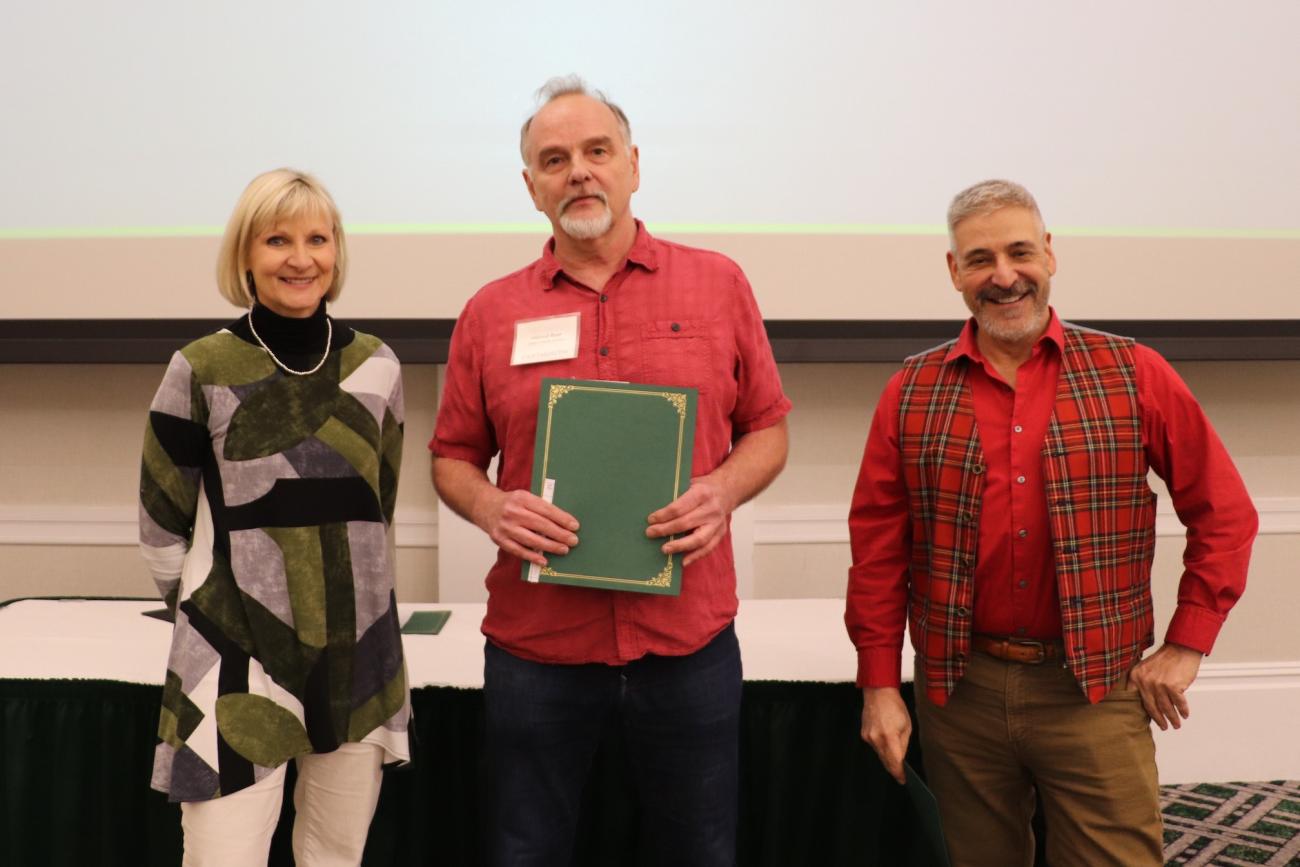 Left to right: Sue Mehrer, Helmut Baer, John DeSantis
Not pictured: Penny Stevenson
35 Years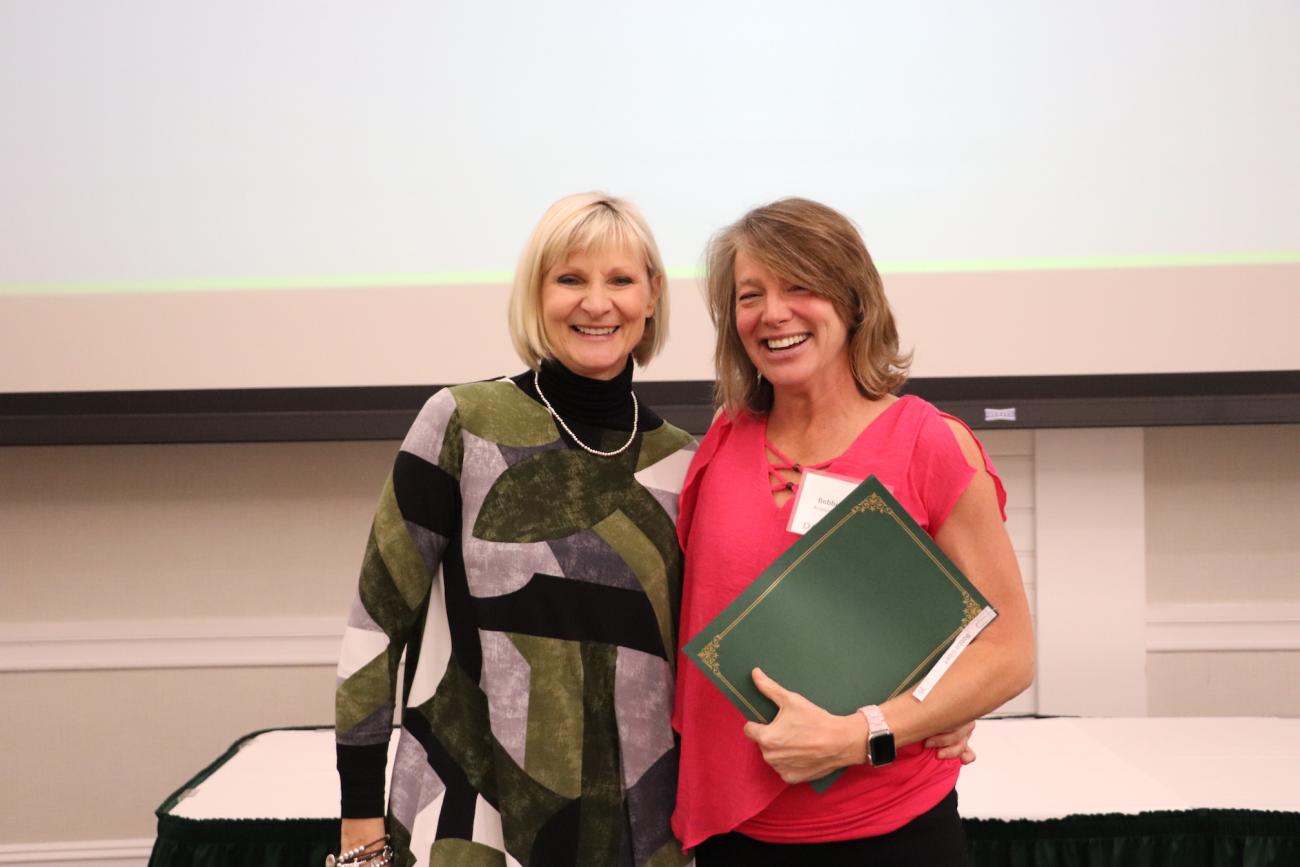 Left to Right: Sue Mehrer, Bobbie Gilbert
40 Years
Stina McCarthy
Pathways Awards and Recognition Action Group
The Awards and Recognition Action Group was created out of the Pathways Report. This volunteer-lead group creates opportunities to recognize and celebrate work and accomplishments within the Dartmouth Library to further grow a culture of appreciation.
Shea Roll, Co-Lead
Este Pope, Co-Lead
Memory Apata
Brenda Grace
Dartmouth Library Staff Association
The DCLSA organizes social programs for Library staff, manages scholarships and occasional educational programs, acknowledges milestones in members' personal lives, and recognizes outstanding members of our staff through awards.