By Oliver Hazard Perry (1785-1819). Professional and personal correspondence from approximately 1807 to 1819.
ABOUT THE COLLECTION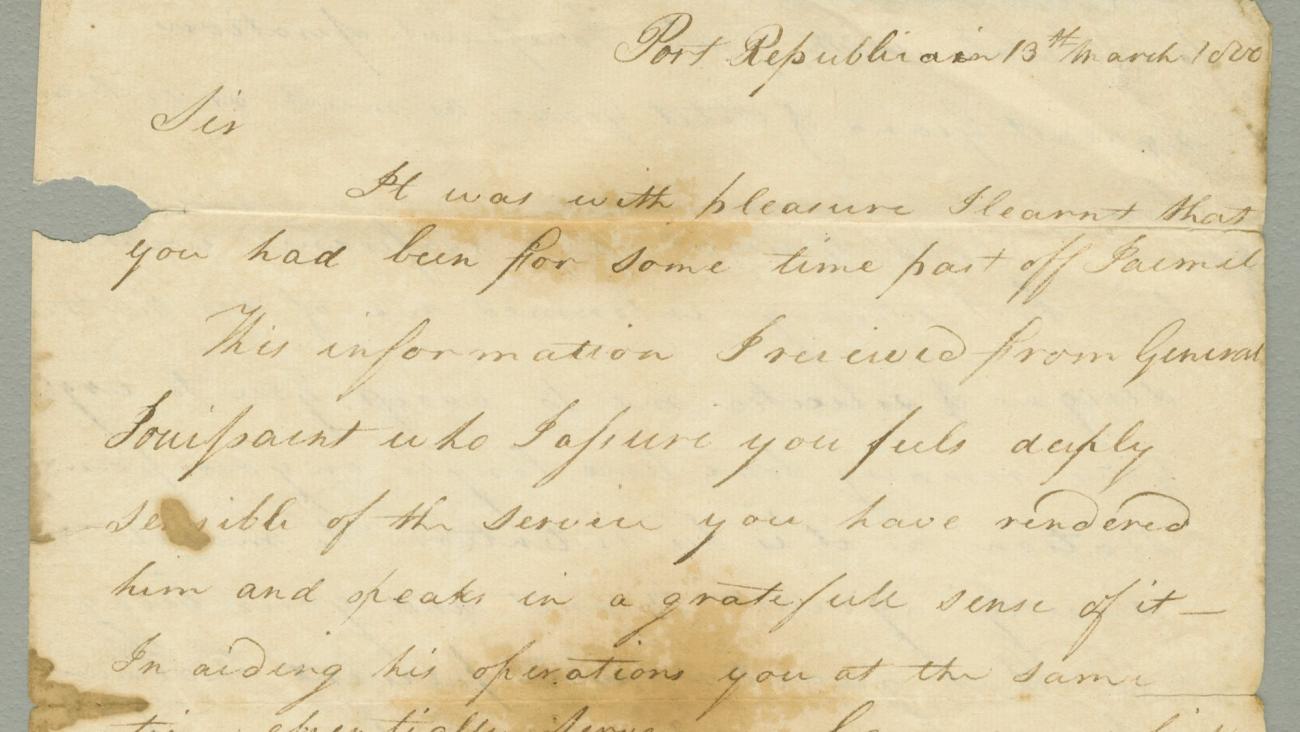 Please note that this is a digital collection only; the Dartmouth Library does not have the original documents, which remain in a private collection.
This collection contains correspondence between and from naval officers, five different Secretaries of the Navy, friends, family, and peers of Perry's, and others involved with the U. S. Navy who wrote to Perry for favors or with commendations. The bulk of the papers were written to Oliver Hazard Perry from 1807 to 1819 and are centered around his naval career and accomplishments, including his tenure on the USS Revenge, his leadership of the U. S. naval forces on Lake Erie during the War of 1812, his command of the USS Java, and the diplomatic mission to Venezuela that culminated in his death.
Correspondents include Oliver Hazard Perry, Matthew Calbraith Perry, Smith Thompson, William Jones, Christopher Raymond Perry, Benjamin Hazard, Benjamin William Crowninshield, Langdon Cheves, E. D. Wood, Hugh Campbell, Isaac Chauncey, John Chambers, Paul Hamilton, R. H. Barclay, Robert Smith, Sarah Perry, William Bainbridge, William Reed, Rees Hill, and John Rodgers, among others.
ABOUT OLIVER HAZARD PERRY
Oliver Hazard Perry, born August 23, 1785, was a commodore in the United States Navy. He is best known for his War of 1812 victory on Lake Erie in September 1813, when his squadron captured the British naval forces battling for control of the lake.
Perry began his career in 1799 as a midshipman on the General Greene, sailing to Haiti to assist General Touissant L'Ouverture in the suppression of his rival, André Rigaud. From 1802 to 1806, Perry served in the Mediterranean, participating in the blockade of a Tripolitan cruiser and, later, witnessing a change of government in Algiers. By 1807, Perry had returned to the United States and received his commission as a lieutenant, as well as his orders to oversee the construction of gunboats. As tensions grew between the United States and Britain, Perry received his command of the USS Revenge, in 1809, with orders to prevent British and French privateers from attacking merchant vessels off the southern coast of the United States. In 1810, the USS Revenge was ordered north, to the coast of Rhode Island, to chart the area; in early 1811, the USS Revenge ran aground and was lost. Perry was court-martialed but exonerated. Later in 1811, Perry married Elizabeth Champlin Mason.
When the War of 1812 began the following year, Perry was given command of a flotilla of gunboats near Newport, Rhode Island. In 1813 he was directed to take command of the U. S. naval forces on Lake Erie. With few resources and a lack of men, he defeated the British naval forces led by General Barclay on September 10 of that year. However, that battle led to a longstanding controversy between Perry and his second-in-command Lieutenant Elliot concerning Elliot's lack of action with the ship under his command, the USS Niagara.
Perry was honored for his victory and given a Congressional gold medal. In July of 1814, he was offered command of the USS Java and began to superintend the outfitting of the vessel. However, the Treaty of Ghent, which ended the War of 1812, was signed before the USS Java was ready to sail. In 1815, Perry and the USS Java were sent to the Mediterranean to fight in the Second Barbary War. During this time, Perry slapped a Marine officer, John Heath, and both men were court-martialed. Neither were severely punished, but both this conflict and the heated opposition between Perry and Elliot had a negative effect on some opinions of Perry.
In 1819, Perry was sent to Venezuela to undertake a diplomatic mission to Simon Bolivar. He completed his mission successfully, but became ill with yellow fever before he could return to the United States. He died on August 23, 1819, on his thirty-fourth birthday.
After Perry's death, his brother-in-law, Alexander Slidell Mackenzie, gathered correspondence and anecdotes from those who had known Perry and wrote a two-volume biography of Perry's life and career.
RIGHTS INFORMATION
Dartmouth College Library assigns a Creative Commons BY-NC license to the digital work and associated web site.
This digital project was originally researched and created by Laura J. Neill '13, The Edward Connery Lathem '51 Digital Library Intern for Winter Term 2012, for the Dartmouth College Library Digital Program.