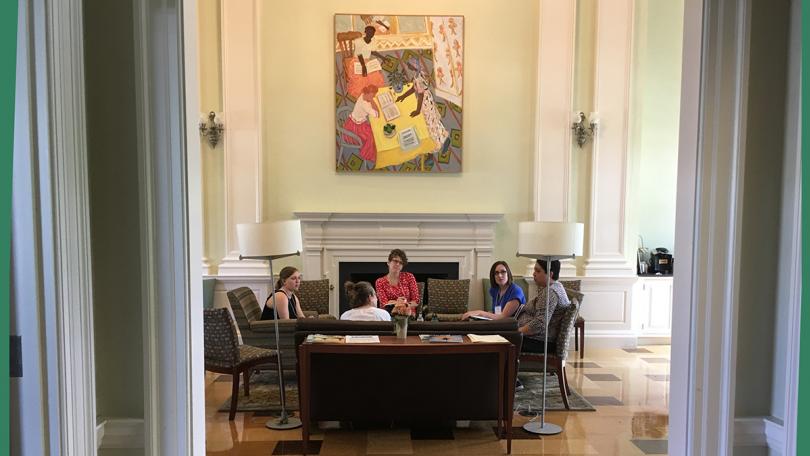 Testimonials from past attendees of the Librarians Active Learning Institute (LALI).
"This was overall a wonderful experience that I would highly recommend to anyone I know who wants to improve their instruction practices. It has fundamentally changed how I approach Special Collections and Archives instruction... The successes of what I learned at LALI are already being noticed by the higher-ups at my library, and I'm so grateful to get to encourage the kind of learning I've always wanted to be able to facilitate. Many thanks to all of the organizers and instructors—this was fantastic!"
 
"It truly was a wonderful experience. Having the opportunity to meet other librarians who experience the same challenges in instruction and being able to work together on Active Learning techniques was beneficial in solidifying our teaching strategies."
 
"LALI was the best professional development training that I have attended. It was fun, it was intense and the people I met and worked with were awesome."
 
"It was a wonderful, hands-on experience that gave me the vocabulary to talk to professors about pedagogy, and the confidence to implement tools in the classroom."
 
"It was an intensive, hands-on, and collaborative engagement with the principles and practice of active learning, tailored to the needs of teaching librarians. It was also the most responsive, supportive, and welcoming professional development experience I've had to date."
 
"I found LALI-ASC to be one of the most beneficial professional development experiences of my career.  The content was extremely valuable and timely for our profession... I was very impressed with the faculty who were enthusiastic, approachable, and extremely thoughtful in their design for the Institute."
 
"LALI challenged me to think about engagement in the classroom — why I choose the activities that I choose, and how I can do more and lecture less. It also included one of the most useful keynotes I've ever heard, and it featured a great team of instructors who were each genuinely invested in my learning experience."
 
"I've fostered a greater commitment to active learning exercises after LALI . . . I also feel more confident about presenting to faculty what my teaching paradigm is and inviting collaboration on that."
 
"It was an excellent and complementary interweaving of the theoretical and the practical. Some portions of it were inspiring, others challenging, but never a dull moment."
 
"An excellent experience for all levels of teachers. Will allow you to examine your teaching and find new ways of approaching classroom interactions."
 
Read more about LALI in Time for Teaching: Active Learning and the Modern Librarian. 
 
Read about one LALI-ASC attendee's teaching experience in Teaching With Primary Sources: The Charlotte Lederer Story.