By Edward Connery Lathem. Written to commemorate the 75th anniversary of Theodor Geisel's graduation from Dartmouth.
ABOUT THIS BOOK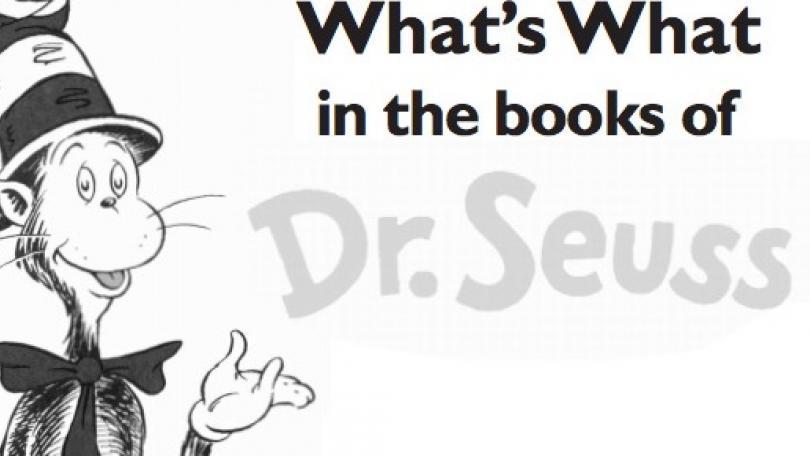 Theodor Seuss Geisel (1904-1991), internationally known by his pseudonym "Dr. Seuss," was a member of the Dartmouth Class of 1925. To commemorate the seventy-fifth anniversary of his graduation from the College, Dartmouth published this finding aid, compiled by Edward Connery Lathem, that is reflective of the contents of all of the Dr. Seuss volumes from the first book, And to Think That I Saw It on Mulberry Street (1937), through three posthumously issued works, ending with Hooray for Diffendoofer Day! (1998).
A limited-edition printing of Who's Who & What's What in the Books of Dr. Seuss was made possible by the William L. Bryant Foundation, established by William J. Bryant, Dartmouth Class of 1925. Who's Who & What's What in the Books of Dr. Seuss has been freely available online since 2000 as a PDF file, prepared by Robert J. Brentrup of Dartmouth's Computing Services Department. The HTML copy was prepared from an XML master file following the Text Encoding Initiative Guidelines in 2009 by Dartmouth College Library staff, with assistance from Eleanor Seaman.
Title-page illustration and "Dr. Seuss" signature reproduced by courtesy of Audrey S. Geisel (Dartmouth L.H.D. 2000) and Dr. Seuss Enterprises, L.P.