Over 140 music compositions by Dartmouth music professor Jon Appleton, freely available to listen to for non-commercial uses.
ABOUT JON APPLETON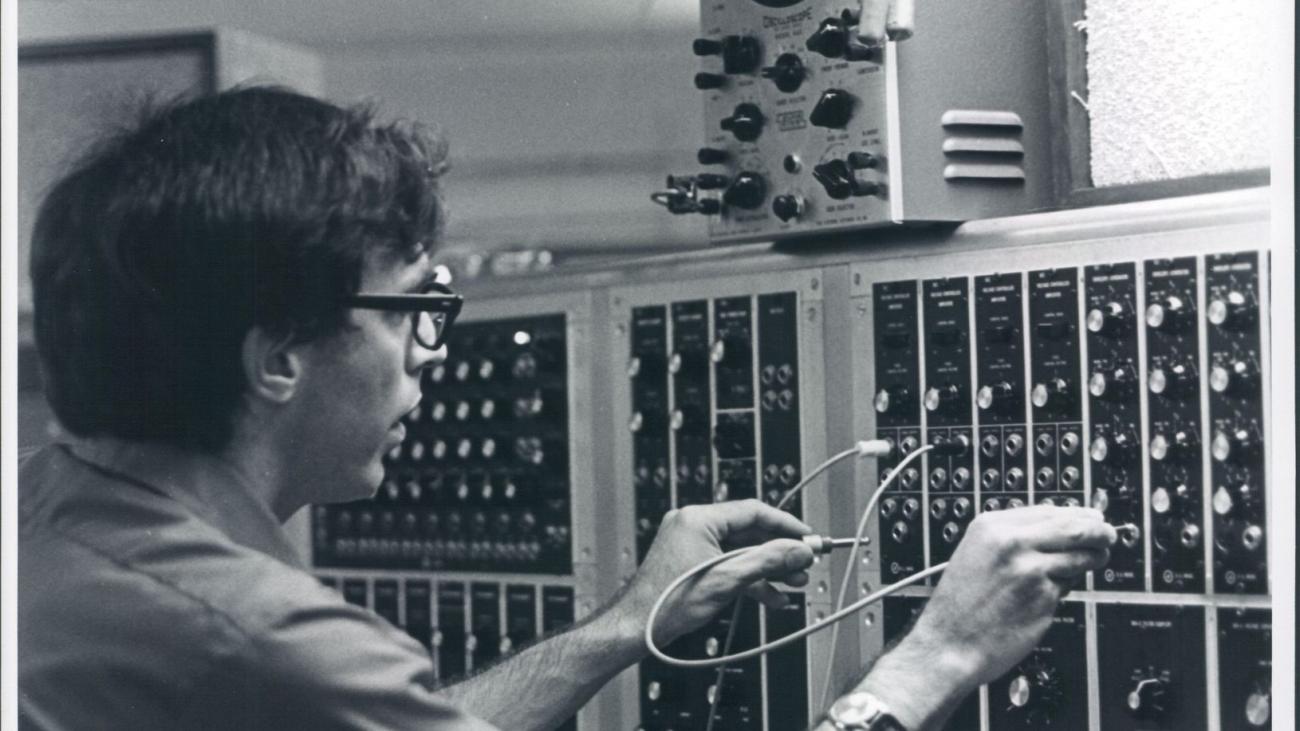 Jon Howard Appleton (1939-) is a composer of both instrumental and electro-acoustic music and co-developer of the Synclavier. He has been on the Dartmouth College Music Department faculty since 1967. He has previously taught in Sweden, at the Moscow Conservatory of Music, the Massachusetts Institute of Technology, and at Keio University in Tokyo, Japan. In 2003 he was awarded the Lifetime Achievement Award by the Society for Electro-Acoustic Music in the United States. He has been the recipient of Guggenheim, Fulbright, National Endowment for the Arts, National Endowment for the Humanities, and American-Scandinavian Foundation fellowships.
For more information, see the composer's homepage, including lists of publications and recordings, an autobiography, and photographs. For a full list of materials held in Rauner Special Collections Library, see the full finding aid for the Jon Appleton Papers.
ABOUT THE COLLECTION
Patricia Fisken, former Head of Paddock Music Library, proposed this project and shepherded it through its planning and production stages. She worked closely with Jon Appleton to transfers his papers to the College's archives. The collection contains correspondence, publicity materials, newspaper and magazine articles, photographs, floppy discs, programs, reviews, recordings, and musical scores. The papers document Appleton's career as a composer, primarily in the field of electronic music, and his time as a professor at Dartmouth. Peter Carini, College Archivist, worked with Jon Appleton to secure the rights to deliver these music files freely online. Music Library Specialist David Bowden created master audio files from a variety of media using the equipment and expertise of Dartmouth Library's Jones Media Center, which were converted to MP3 files for delivery online. Copies of the master files were delivered to the Database of Recorded American Music (DRAM), a not-for-profit resource providing online access to high-quality audio of 2,300 albums' worth of recordings from independent record labels and sound archives. The copies of these Jon Appleton compositions in DRAM are available to the many educational institutions that subscribe to DRAM; the copies of the Appleton files hosted by the Dartmouth Library are free to all for non-commercial use.
We are very grateful to Jon Appleton for giving his permission for these compositions to be made freely available for non-commercial use.
All music copyright Jon Appleton.