By Ovid (43 BCE-17/18 CE). Color facsimile of a pre-1480 printed Italian book (an incunabulum).
ABOUT THIS BOOK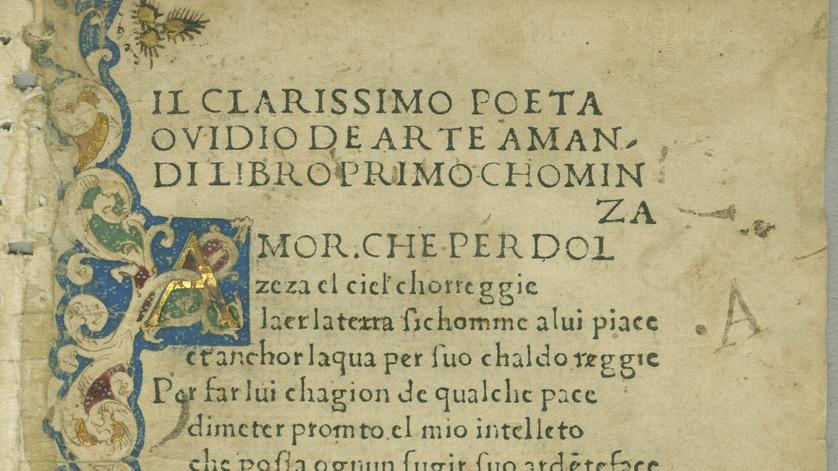 [no publisher, no date] 48 leaves. 20 cm (51/8 x 7/3/4 inches)
An early, very rare, quarto incunabulum. The opening initial "A" is illuminated and large initials throughout are rubricated in blue and red. Ludwig Hain's checklist, Repertorium bibliographicum, does not indicate where or when this Italian Ovid (Hain #12226) was printed, but he calls it the first edition in the Italian language, and indicates that it was printed before 1480. When sold by Dawsons Book Shop early in the 20th century (sale price, $15) it was thought to be the only copy in an American library, according to a contemporary census of Incunabula in American Libraries. OCLC WorldCat now lists one other copy, at the University of North Carolina at Chapel Hill.
Publius Ovidius Naso (43 BCE-17/18 CE) was a Roman poet known to the English-speaking world as Ovid. He wrote on many topics, including love, abandoned women, and mythological transformations. Traditionally ranked alongside Virgil and Horace as one of the three canonical poets of Latin literature, Ovid was generally considered a great master of the elegiac couplet. His poetry, much imitated during Late Antiquity and the Middle Ages, had a decisive influence on European art and literature for centuries. (Wikipedia)
RIGHTS INFORMATION
Dartmouth College Library assigns a Creative Commons BY-NC license to the digital work and associated web site.