Letters and papers from 1847-1899 related to John McCoy's time as a Union soldier in the American Civil War.
About the Collection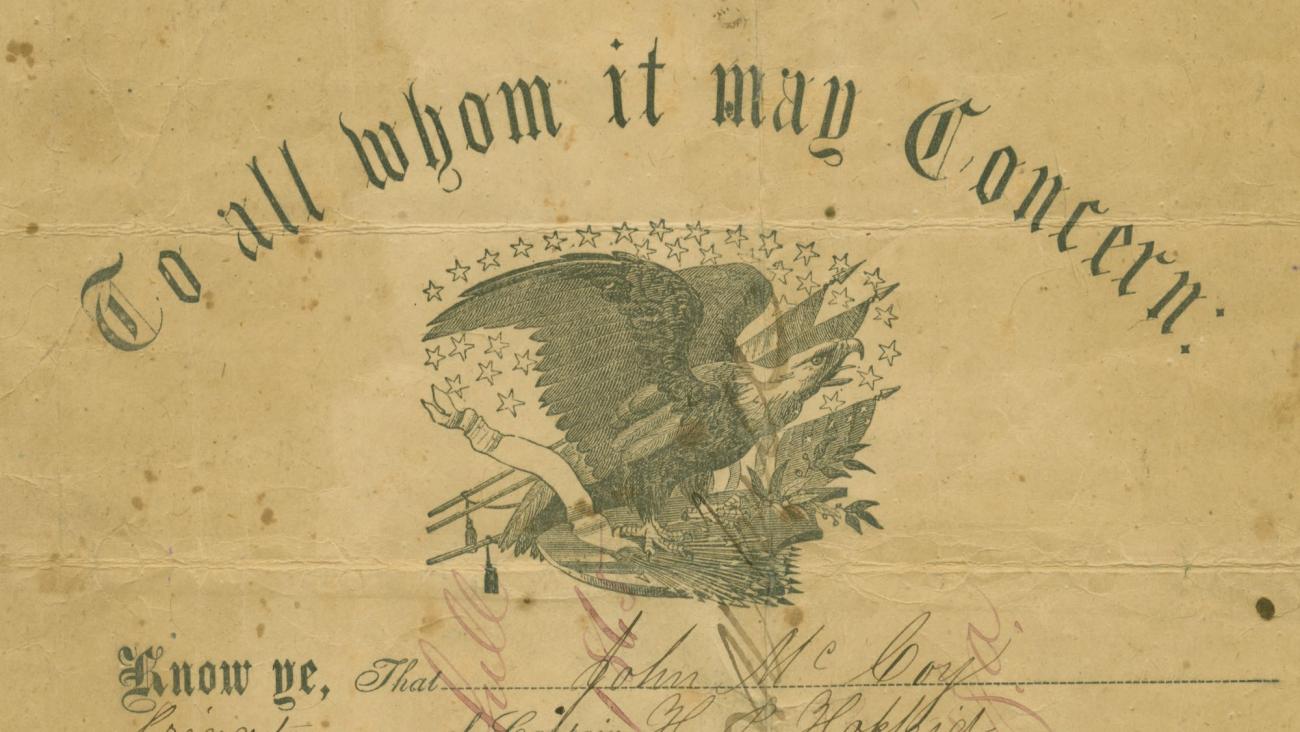 The John McCoy Family Papers contain letters, discharge papers, and pension payment records from 1847-1899. The bulk of the letters are to Martha Black McCoy from her husband John McCoy after his likely enlistment as a substitute soldier for the Union Army during the Civil War. McCoy received a $627 bounty which was more than double the normal enlistment bounty at the time. The letters describe his time stationed at Fort Totten in New Bern, North Carolina, as well as at two separate military hospitals. They detail his ongoing health problems, the financial pressures his wife and family faced at their home in Quebec, as well as the difficulties in transferring enlistment money to a Canadian spouse. In addition to letters to his wife, there is one letter to his son Archibald, a letter to his wife from a relative, Elizabeth Anderson, and a letter to John McCoy from William Weed. Additional documents relate to McCoy's military service and marriage and include a discharge form, a pension payment form, and a note attesting to the marriage of John McCoy to Martha Black.
The John McCoy Family papers form part of the manuscript holdings of Rauner Special Collections Library at Dartmouth College. The original documents are available for research and may be requested by asking for MS-605 in Rauner Library. There is also a full archival finding aid for the collection. The papers were digitally reformatted and transcribed over the summer and fall of 2013 as part of the Dartmouth Digital Library Program. This digital project was made possible with support from John McCoy's great-grandsons, John Franklin McCoy III and William McCoy Weiler.
ABOUT JOHN MCCOY
John McCoy (d.1867) was a farmer from West Hinchinbrooke, Quebec, Canada. He enlisted in 1864 at Danvers, Massachusetts, to fight in the American Civil War without informing his wife of his actions. McCoy served as a private in Company E of the 2nd Regiment Massachusetts Heavy Artillery Volunteers. Serving in North Carolina, McCoy was stricken with illness and was ordered to convalesce in a military hospital in Rhode Island. He was discharged and died two years later.
RIGHTS INFORMATION
Dartmouth College Library assigns a Creative Commons BY-NC license to the digital work and associated web site.