Eight volumes of custom jewelry design books from the firm of Jaques and Marcus, later Marcus and Co., circa 1890-1910.
About the Design Books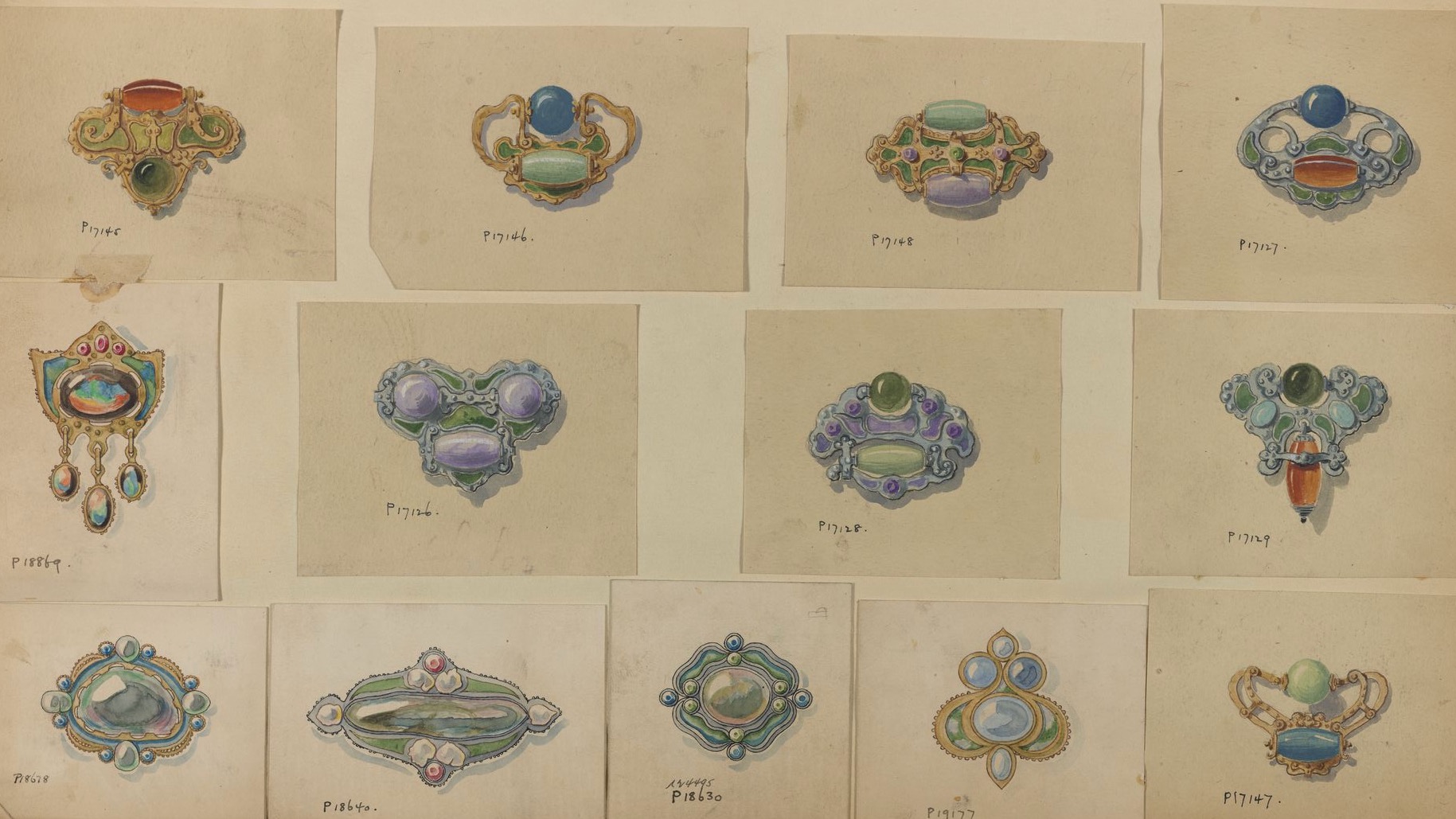 These volumes of custom jewelry design books from the firm of Jaques and Marcus, later Marcus and Co., are stunning works of art. The books contain pen and ink drawings of jewelry with wash and pigment coloration. Each design was custom-made for clients and the designs were later pasted into the volumes. Included are designs for brooches, pendants, hair ornaments, chains, and necklaces. The design books are an important source for researching the work of Jaques and Marcus, but also offer a wealth of inspiration.
The design books were given to the Dartmouth Library in 1987 by Burton Elliott. Digitization was made possible with support from the Lifchez-Stronach Preservation Fund for the Thomas J. Watson Library, The Metropolitan Museum of Art. The original design books can be viewed in Rauner Special Collections Library by asking for Rauner Manuscript MS-674. Digital imaging of the design books was done by the Northeast Document Conservation Center (NEDCC).
For more about the collection, see Beth Carver Wees, "A Gem of a Discovery" in Magazine Antiques 183.6 (2016): 48. The article focuses on the donation of the jewelry design books to Dartmouth by alumnus Burton Elliott, who worked for the Marcus firm, along with his father, Edward Goldstein. Topics discussed include features of the collection included in the Rauner Special Collections Library at Dartmouth, and significance of the survival of the archive.
Rights Information
The copyright and related rights status of this material has been reviewed by the organization that has made the material available, but the organization was unable to make a conclusive determination as to the copyright status of the material. Please refer to Dartmouth Guidelines for Use, Rights and Permissions for more information. You are free to use this material in any way that is permitted by the copyright law that applies to your use.
DOI
https://doi.org/10.1349/ddlp.1961