Interesting doings from Feldberg Library
Just in time for the start of spring term 2022, Feldberg Library has REOPENED! The library relocated during the Irving Institute construction project and the Murdough Center's renovation. Now both projects are complete and we are excited to welcome you into our refreshed space.
Chat with the business, engineering, and economics librarians, use the Bloomberg terminals, or just find a sunny place to study. Books on business, management, and engineering topics are available for circulation, and readings for courses at Tuck and Thayer will be on reserve.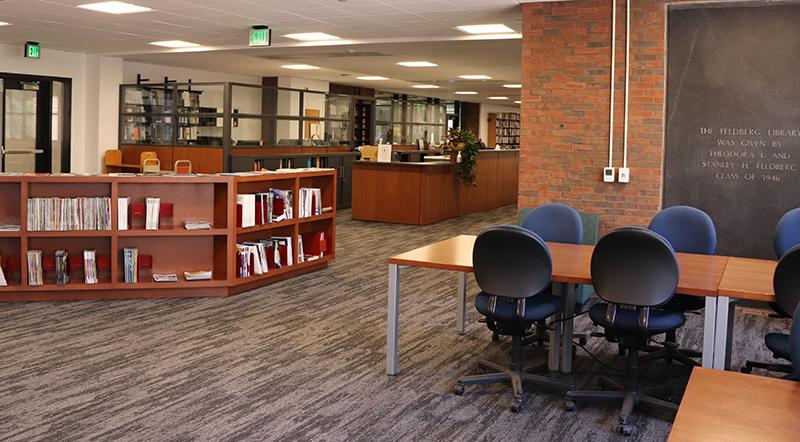 The Engineering librarians at Feldberg host several workshops each term and invite you to attend. Workshops are hosted via Zoom from 12:15-1:05 pm. Session recordings are available on request. View and sign up for upcoming workshops here.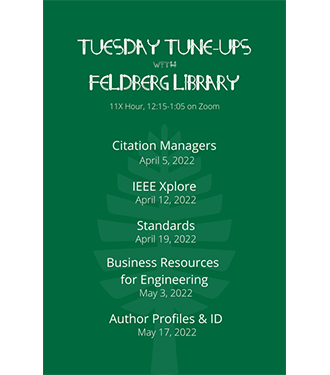 Working Together with Data
Sometimes library research helps you complete a class assignment, but sometimes it lands you in the pages of the New York Times or Wall Street Journal.
As a research assistant, Ranjan Sehgal '22 has co-authored a number of papers with Bruce Sacerdote, the Richard S. Braddock 1963 Professor in Economics.  Recently, their work on COVID news coverage, "Why Is All COVID-19 News Bad News?", and the stock trading behavior of US Senators, Relief Rally: Senators As Feckless As the Rest of Us at Stock Picking, resulted in lots of media attention (Undergraduate's Economics Research Gets Big Media Play).
The Library was able to assist in this work in some less expected ways.  Ranjan tells us, "I have often enlisted the help of great librarians like Wendel Cox [Research & Learning Librarian for Humanities & Social Sciences], John Cocklin [Research & Learning Librarian for Business & Economics], and James Adams [Data and Visualization Librarian], to help with traditional problems that I thought the library would be helpful for, such as locating books or figuring out the mechanics of citations. However, the previously mentioned librarians have helped tremendously not only with those problems, but so much more. The library has been a great resource for working with, and locating data, which I did not expect when entering Dartmouth."
John Cocklin adds, "Ranjan is a gifted student, and Professor Sacerdote has been a great partner as the Library expanded its economic data collection. For many years, the Library has provided online access to the full-text of historical and current newspapers like the New York Times, Wall Street Journal, and Le Monde to the Dartmouth Community. More recently we have been working with publishers to also provide the raw files and tools necessary for the type of data mining Ranjan and Professor Sacerdote used to find patterns in large collections of text."
The Library continues to invest in specialized data sources and to teach data analysis skills to aid both faculty and students in their research.