Sparking Discovery
In Fall 2022, in conjunction with the Council on the Libraries and the Dartmouth community, we embarked on a year-long process to re-imagine the future of Dartmouth Library. In the initial five-week sprint, a core team of Library staff engaged with designers from IDEO to take a human-centered, design-research approach to reflect back a shared purpose and vision for Dartmouth Library.
This sprint was powered by more than 70 participants, across staff, faculty, administration, and students and various levels of their education. Whether they engaged with us through ten interviews, four workshops, four tours, and many moments of feedback, we are grateful for their participation.
Informed by this wealth of stories, experiences, perspectives, and research, we wrote, revised, and then revised again the statements we were formulating. This iterative and collaborative process brought us to final Purpose and Vision Statements. Together with our values, we believe these statements reflect the unique value of the Dartmouth library today and where we might dare to go.
Making Choices
In the spring of 2023, we began the second phase of the project, the strategy sprint. We asked, how can we position the Library as central to teaching, learning, and research at Dartmouth? What are the actionable steps we can take to bring our mission and vision to life? 
 
The work in this sprint included exploring future signals in society, academia, and the library world alongside interviews with Dartmouth students, faculty, staff, and leadership. Through a series of workshops, we explored multiple strategic directions, each designed to be intentionally distinct. The process helped us clearly identify what most resonated and aligned with our values, purpose, and vision. Ultimately, we took pieces from each to meld into our strategic direction: 
Research Engine, Powering Knowledge. 

Our definition of research comprises all forms of inquiry and creativity, powered by every question asked along the journey toward discovery and knowledge. It encompasses all the ways the Library shares expertise to spark discovery for the Dartmouth community and beyond.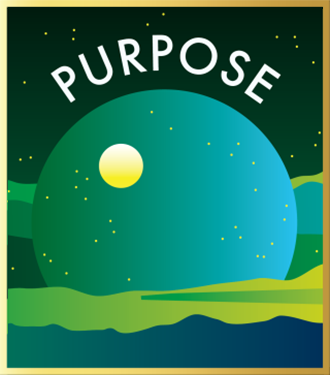 Our Purpose is why we exist. It's our guiding star; the shared meaning that makes it all worth it.
Powered by questions, we spark discovery—within ourselves, our community, and our world.
Our Vision is the future we hope to create, the direction we are headed. It gives us an aspiration and informs strategy.
We aspire to be the intellectual home of open and collaborative enquiry, moving us towards a more just society.

Community

Curiosity

Respect

Service

Trust
Our values represent the guiding principles to which we, the staff of the Dartmouth Library, aspire. They represent our core beliefs, behaviors, and attitudes, and, most of all, how we treat each other. They were foundational to the purpose and vision work.
Core Team
Amelia Looby, Research & Learning Librarian - Business & Economics
Este Pope, Manager of Digital Scholarly Software & Systems
Tim Wolfe, Acquisitions Services Supervisor
Sue Mehrer, Dean of Libraries
Communication Team
Daniel Chamberlain, Associate Dean of Libraries, Research & Digital Strategies
Jay Satterfield, Head of Special Collections
Kristen Rhodes, Executive Assistant to the Dean of Libraries
Shea Roll, Staff Engagement Liaison
Data, Assessment, & Analysis Group
Danada Dinsmore
Lora Leligdon
Leanne Litsios
Strategy Sprint Working Group
Amelia Looby, Research & Learning Librarian - Business & Economics
Sue Mehrer, Dean of Libraries
Claudia Olivetti, Member, Council on the Libraries, Professor of Economics
Geoff Parker, Chair, Council on the Libraries, Professor of Engineering
Este Pope, Manager of Digital Scholarly Software & Systems
Rose Reynolds, Head of Collection Development and Analysis
Simon Stone, Research Data Science Specialist
Morgan Swan, Special Collections Librarian for Teaching & Scholarly Engagement
Tim Wolfe, Acquisitions Services Supervisor
Strategy Sprint 1:1 Interviews
LaMar Bunts, Chief Transformation Officer
Duane Compton, Dean, Geisel School of Medicine
Mitch Davis, Vice President of Information, Technology & Consulting, Chief Information Officer
Caroline Kerr '05, Dartmouth Board of Trustees 2015-2023, Special Advisor to the President
Rachel Pontes '26
Chloe Poston, Associate Vice President for Strategic Initiatives, Institutional Diversity & Equity
Roopika Risam, Associate Professor of Film and Media Studies and Comparative Literature
Emi Rohn '25
Kyyen Shigley '26 
Martha Whitehead, Vice President for the Harvard Library and University Librarian, Harvard
Strategy Sprint Activities Participants
Daniel Abosso, Memory Apata, Laura Barrett, Hazen Allen, Heather Blunt, Eric Bivona, Matt Benzing, Laura Braunstein, Jentry Campbell, Daniel Chamberlain, Lizzie Curran, Danada Dinsmore, Bruce Dunn, Lydia Elias, Anna Grallert, Alexis Gomez, August Guszkowski, Lucinda Hall, Deborah Howe, Stephen Krueger, Caro Langenbucher, Leanne Litsios, Lilly Linden, Karen MacPhee, Tricia Martone, Joe Montibello, Jenny Mullins, Jenn Natale, Peter Nowell, Craig Pallett, Eileen Potts, Eric Rapp, Charlie Remy, Rose Reynolds, Kristen Rhodes, Shea Roll, David Sandberg, Jay Satterfield, Noah Skogerboe, Karen Sluzenski, Penniphurr Stevenson, Sarah Smith, Simon Stone, Toben Traver, Mark Tucker, Vi Welker, Val Werner
Purpose Sprint Extended Team
August Guszkowski, Edward Connery Lathem '51 Digital Library Fellow
Chris Ivanyi, Multimedia Lab Technician
Geoff Parker, Chair, Council on the Libraries and Prof. of Engineering
Jeremy Mickez, Research Data Science Specialist
Jill Baron, Research & Learning Librarian - Humanities & Social Sciences
John Cocklin, Research & Learning Librarian - Business & Economics, Interim Head of Acquisitions
Jon Whitney, Information Access Assistant
Lilly Linden, Research and Learning Librarian - STEM
Stephanie Kerns, Assoc Dean for Health Sciences and Biomedical Libraries
Purpose Sprint One-on-one Interviews
Colleen Boggs, Chair of Committee on Priorities, Professor of English
Josh Kim, Director of Online Programs and Strategy
David Kotz, Provost 
Dean Madden, Vice Provost for Research
Scott Pauls, Director of the Dartmouth Centre for the Advancement of Learning, Professor of Mathematics
Purpose Sprint Workshop Participants
Campus Colleagues
Joe Castelot, Director, Collis Center for Student Involvement; Council on the Libraries
Mitch Davis, Vice President of Information, Technology & Consulting; Council on the Libraries
Chloe Poston, AVP for Strategic Initiatives and Director of the Campus Climate and Culture Initiative (C3I)
Nick Ryan, Chief of Staff, Geisel School of Medicine Dean's Office
Amanda Skinner, Asst Dir of Outreach and Communications, Guarini School; Council on the Libraries
Marianne Thomson, Associate Dean of Student Affairs
Joanna Whitcomb, Director of Campus Planning
Faculty
Geoff Parker, Council on the Libraries, Prof. of Engineering
Claudia Olivetti, Council on the Libraries, Prof. of Economics
Robert Cantor, Council on the Libraries, Prof. of Chemistry
David Goodman, Council on the Libraries, Prof. of The Dartmouth Institute
Devin Singh, Council on the Libraries, Assoc. Prof. of Religion
D.G. Webster, Council on the Libraries, Assoc. Prof. of Environmental Studies
Dan Rockmore, Neukom Institute and Wright Center
Bruce Duthu, Prof. and Chair of Native American and Indigenous Studies
Anant Sundaram, Tuck, Clinical Professor of Business Administration
Students
Felix Davis '26
Teani De Fries '24
Ian Doran, Tuck
Natalie Grover '24
Jade Haakonsen '25
Amana Hill '23
Khonza Masuku '22
David Millman '23, President of the Dartmouth Student Government
Philip Mulford, Thayer, Co-President of the Thayer Council
Marilyn Ndukwe, Geisel, President of the Geisel Student Government
Roman Olavarria '23 
Kira Parrish-Penny '24
Library Staff
Laura Barrett, Wes Benash, Laura Braunstein, Peter Carini, Daniel Chamberlain, Lora Coble, John Cocklin, Lizzie Curran, Richel Cuyler, John DeSantis, Anna Grallert, Laura Graveline, Christopher Ivanyi, Stephanie Kerns, Stephen Krueger, Lora Leligdon, Shawn Martin, Joe Montibello, Jenny Mullins, Jenn Natale, Jane Quigley, Rose Reynolds, Susan Simon, Sarah Smith, Simon Stone, Dave Sturges, Jennifer Taxman, Toben Traver