We're telling stories about inclusion and diversity from Dartmouth's past.
Starting in the 2018-19 academic year, the Dartmouth Library is conducting a two-year historical accountability pilot initiative as part of Dartmouth's plan for Inclusive Excellence. The pilot initiative, which is based at Rauner Special Collections Library, offers four, term-long, full-time, fully-funded student research fellowships and three student research internships to assist Dartmouth students in exploring our collections and creating original content based upon primary sources.
Jaime Eeg '18, former Rauner Student Research Fellow and current Edward Connery Lathem '51 Special Collections Fellow, says "the fellowship allowed me to build a kind of relationship with the past that I never even realized was possible. Working with primary source material gave me a glimpse into individual perspectives I could never grasp from a history book. After spending one of my off terms researching in Rauner, I know the archives hold so many more stories waiting to be told."
First Fellowship Project: Professor Hannah Croasdale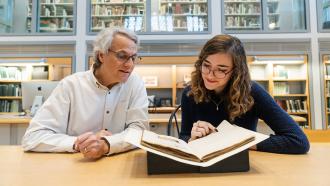 "I'm telling everyone her story, and also the stories of other women who have gotten us to this point at Dartmouth."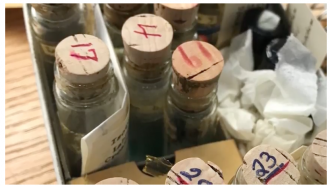 Caroline Cook, the first Historical Accountability Fellow, made this video about Croasdale.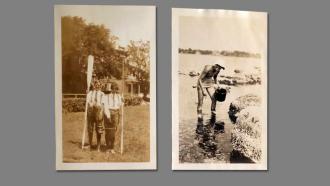 Fellow Caroline Cook discusses how Prof. Croasdale's personal photo album shaped her research process.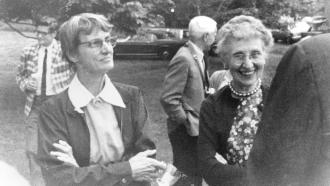 The complete collection of Prof. Croasdale's papers at Rauner Special Collections.
Project Team
Current Fellows
Alexandrea Keith '20
Alex will be exploring the intersections of race and class by studying and juxtaposing the experiences of Jewish students and black students who attended Dartmouth during the early 20th century. She will focus on the extent to which men of color, their Jewish counterparts and, particularly, lower income black and Jewish students were integrated into campus life. Her goal is to provide an additional perspective of Dartmouth by studying how these communities's time at Dartmouth was distinct from their wealthier, white, non-Jewish counterparts.
Alex is a History Modified major with a minor in Africa and African American Studies who hopes to pursue a career in education or research. On campus, she is involved in America Reads and serves as a Student Program Assistant for Communications for the Rockefeller Center for Public Policy. In her free time, she enjoys skating and traveling.
Samantha Koreman '20
Sam will be focusing on the historical representation and visibility of the differently-abled throughout Dartmouth's institutional history. This entails researching the experiences of the differently-abled on campus throughout the College's history by looking for visual and written representations of disability in the archives. In addition, she will utilize building floor plans to determine how accessible Dartmouth's campus is to people with limited mobility. Sam hopes to pinpoint potential areas for improvement for the College to implement in the future.
Sam is a double major in Government and Philosophy with an interest in political authority and how governments can enact ethical policies. On campus, she's involved with numerous organizations in the Collis Center for Student Involvement, serves on the editorial staff of World Outlook, and is an undergraduate research assistant through the James O. Freedman Presidential Scholars program.  She considers coffee a vital food group and is passionate about B-rated horror movies.
Anneliese Thomas '19
Anneliese will be consulting the papers of Professor Errol Hill to explore the Black student experience at Dartmouth in the 1960s and 70s. Aside from his role as professor, Hill served as an advisor to the Afro-American Society, an affirmative action officer, and a freshman advisor over the course of his tenure. Anneliese is motivated to do this research for the benefit of her fellow students of color; she seeks to underscore the importance of representation through the stories of Errol Hill and the students whose lives he impacted so greatly.
Anneliese is a Sociology major and Spanish minor who hopes to pursue a career in law. In addition to being a Historical Accountability Student Research Fellow, she is also a Rockefeller Leadership Fellow, the Inclusivity Chair of Chi Delta Sorority, and a Director of the Ujima Dance Troupe. In her spare time, she enjoys traveling and listening to true crime podcasts.
Past Fellows
Caroline Cook '21
Caroline's interest in early female faculty at Dartmouth led her to research the striking life of Professor Hannah Croasdale. A compelling force in the history of women at Dartmouth and women in the sciences, Caroline considers Hannah to be a perfect example of the difference between the way we view pioneers and the way they view themselves. She believes there is often a disconnect between the way these important figures saw their work and the way they are remembered today. 
Caroline is a sophomore with plans to major in English and minor in Art History. On campus, she draws political cartoons for The Dartmouth, writes comedy for the Jack-o-Lantern, and is involved with the Center for Social Impact.
Staff
Student Research Interns
Savannah Eller '22
Veselin Nanov '20
Kylee Sibilia '20
Myranda Fuentes, Institutional History Research Specialist
Myranda is a recent graduate of Columbia University, where she received her B.A. in English Literature. While at Columbia, Myranda was a general body member of the Native American Council and ardent supporter of mental health and accessibility initiatives on campus. In the future, she plans to attend graduate school with the hopes of becoming a professor. As a first generation, low income graduate, she is dedicated to developing further accessibility, inclusivity, and diversity in higher education.